28mm Mantic Games – Dwarf Berserker Lord
Not everything can be renaissance polish… so a small update with a very nice Mantic Games figures, a Berserker Lord for their Kings of War game.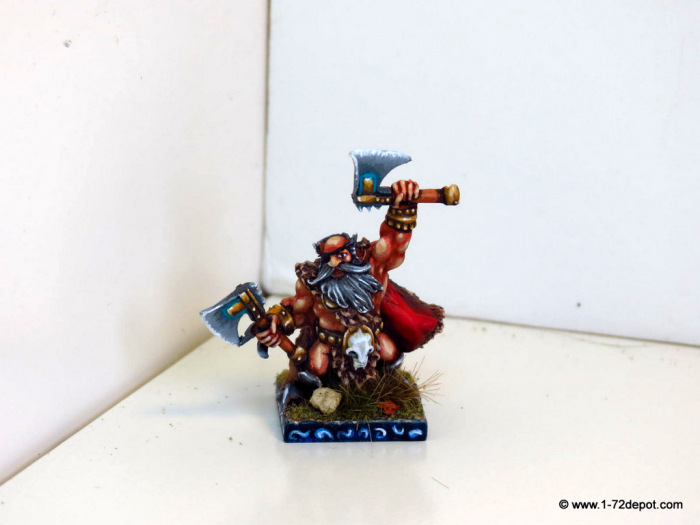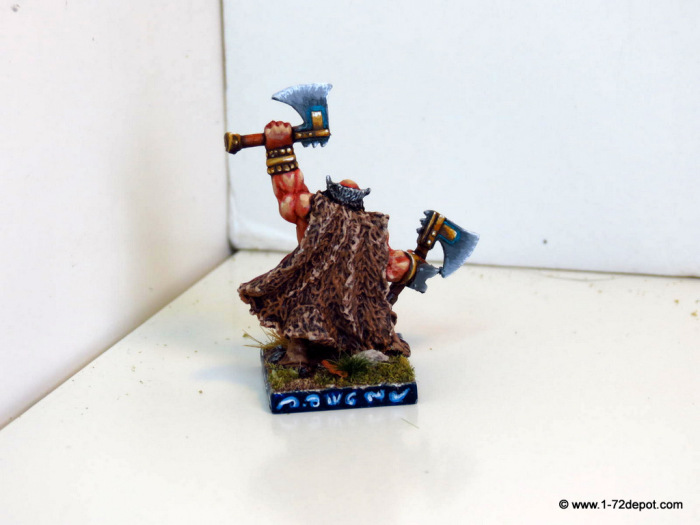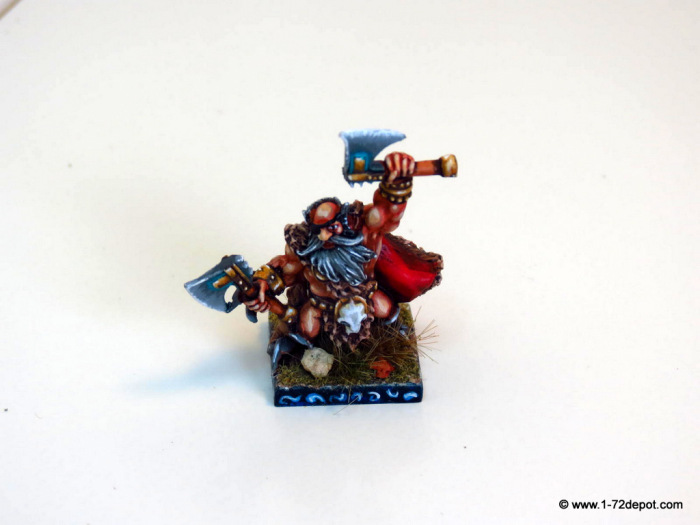 PAINT GUIDE:
Skin
For the skin tones i used the Skin paint set by scale 75, following more or less their guide included.
Base colour is Pink flesh (also can be used Citadel Dwarf flesh (old name)) , then i apply a wash of Citadel Ogryn Flesh (now called Reikland flesh tone).
Then two successive highlights with a mix of Pink Flesh + Gold Flesh increasing Gold Flesh in each iteration (This can be done also mixing Citadel Dwarf flesh + Elf flesh (sorry i don't know the new names))
As this set haves another colour called Light Flesh i added two extra highlights mixing Gold Flesh + Light Flesh.
To end, very small touches of the Pale Flesh (Vallejo haves a similar skin tone called Light Flesh)
Gold Metal parts
Trying some NMM technique here, using Vallejo Model Color, from their special set for NMM.
Base colour is Heavy Brown, to add some more contrast you can give it a wash of Devlan Mud or Dark Tone by The Army Painter.
Then apply Gold Brown, and then 2 or 3 successive highlights with Gold Brown + White, increasing the white in each mix.
To end, a very small touches of pure white.
Silver Metal parts
Very similar to gold tones, but varying colours used. Base colour is Cold grey (also from Vallejo Model Color NMM set), apply a black wash, and then start to highlight with Cold Grey + White. To end a final touch of pure white in the edges.
The blueish tone around the gold area in the axes is done with diluted turquoise blue, mixed with some white.
Cape (Red)
Base colour is a dark red, Citadel have some one in their range, but any other will work. I apply a first highlight of Vallejo Flat Red, and then to homogenize tone i wash with a red wash (From The Army Painter in my case).
Then i highlight again with Flat Red and to end a final touch with Vermilion Red (Vallejo)
Cape (Back)
Maybe this is the easier part, and it can be done with a lot of colours, just choose your favourite brown or grey, depend on the style of cape you want.
I used Vallejo Brown Sand, washed with Dark Tone (Army Painter) , some parts where highlighted (dry brush) with the Brown Sand again and some other with a mix of White + Brown Sand. Some final touches of this last highlight were applied by brush.
Skull
Base coat is a pale white, such "Rotting Flesh" or "Skull white" , black wash the eyes caves, and then pure white.
Dwarf beard is done with a grey colour, washing black, and highlighting with pure white, first by dry brush and then some small touches with brush to emphasize some parts.
And that's all.
And the forthcoming Kingdoms of Men army…