28mm – The Assault Group – Tatars & Cossacks
Mounted Cossacks – Irregular
First of all, a well bunch of Mounted Cossacks, as irregulars, the most common for those men. War in East Europe can't be understand without Cossacks for a well bunch of centuries from Renaissance to WWII. So any army for this area period must have or fight some cossacks in their files, was usual to see these guys fighting with or against the Polish-Lithuanian Commonwealth, as well as fighting against Tatars, another folk with quite similar life way.
Both were famous for their raids, so cavalry was the most important part of the army.
Cossack organization were quite important and operative during this centuries and they were a pain in the ass for Ottomans, Muscovites and Polish-Lithuanian but also an important allied.
TAG provide a well bunch of blisters for this topic, so probably you can find there all you need to set up a Cossack party. Figures and casting haves the usual quality in the brand. To say and odd, maybe the horses aren't best in the market, but they do his job reasonably well.
Paint all those hordes, with so many colour change are more tedious and laborious than other units, but at the end, the work is done. Officers' capes are decorated using "nails decals", yes you have read right, painting over them. Patterns are very limited but they can be useful, although this time we are not so satisfied with result as happened in the Haiduks regiments, where we used this technique for first time.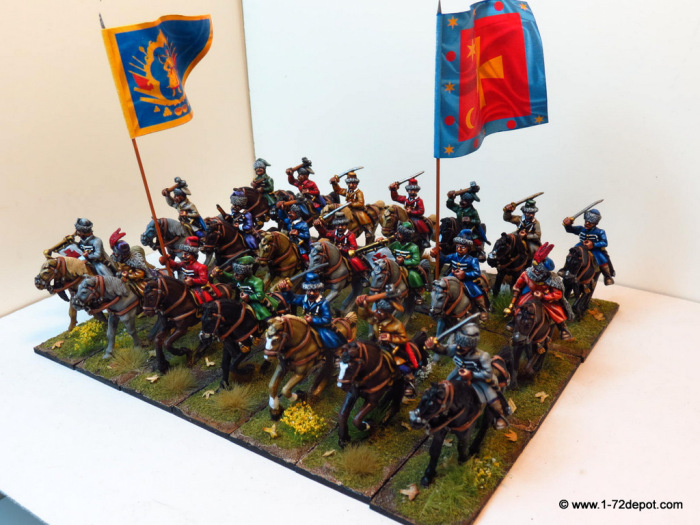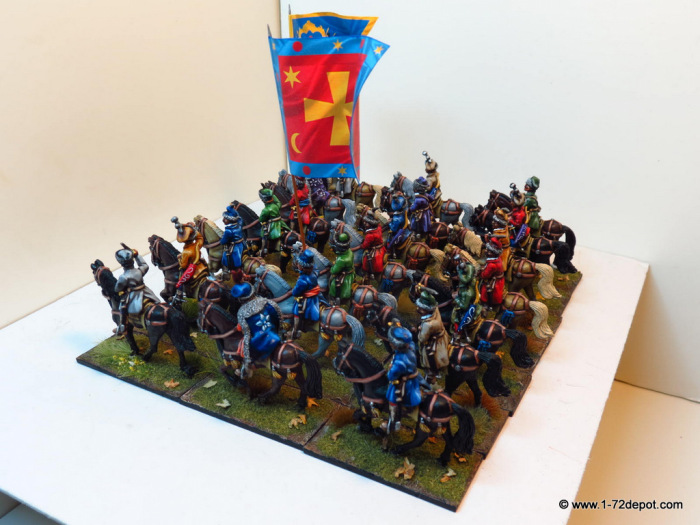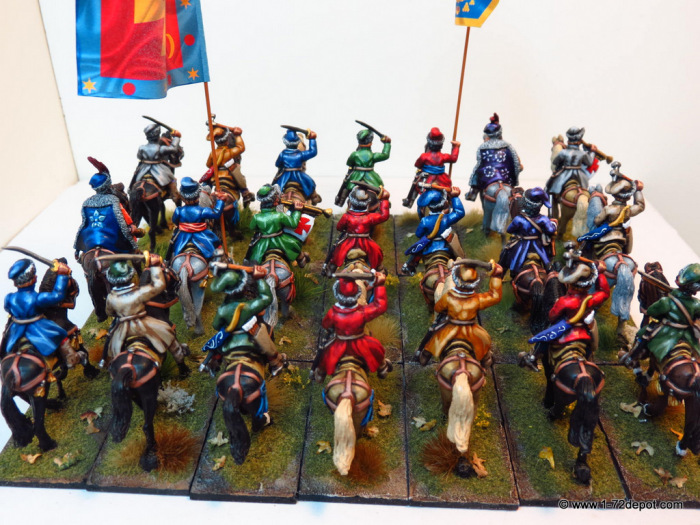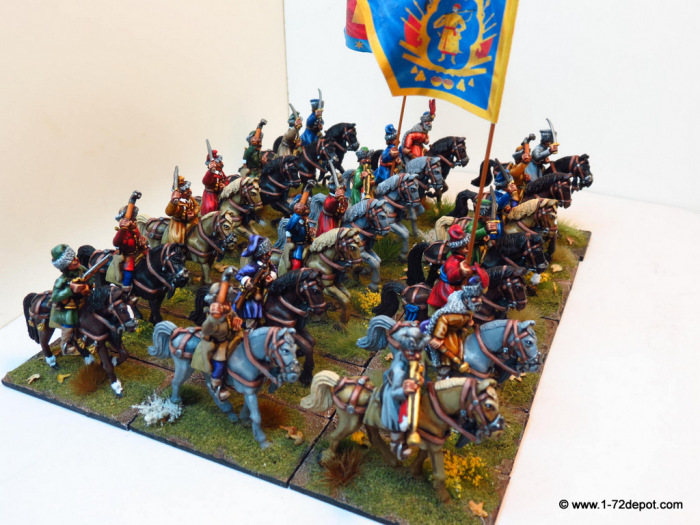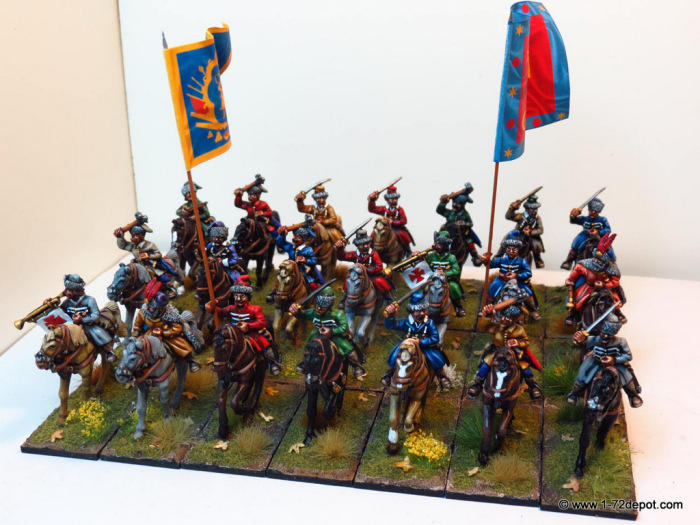 Mounted Cossacks – Registered
Part of the Cossacks were in stable service of the Polish-Commonwealth, those we call "registered" cossacks, most of them Zaporozhian Cossacks. Probably uniforms were in-existent for those unit, but we take this license inspired by a work which was published in the old TAG gallery, unfortunately they changed their web site, ans seems to be not available any more.
Figures are exactly the same used for the irregular cossacks above (Who also are registered, as are intended to be part of the Polish army).
For the officer cape decoration i tried a new method based in some custom decal print, but it was a failure, but with this experience, soon i will show more work using this technique.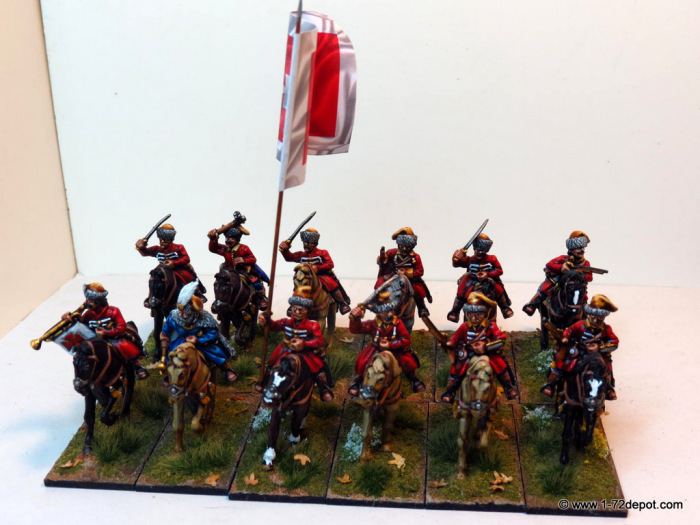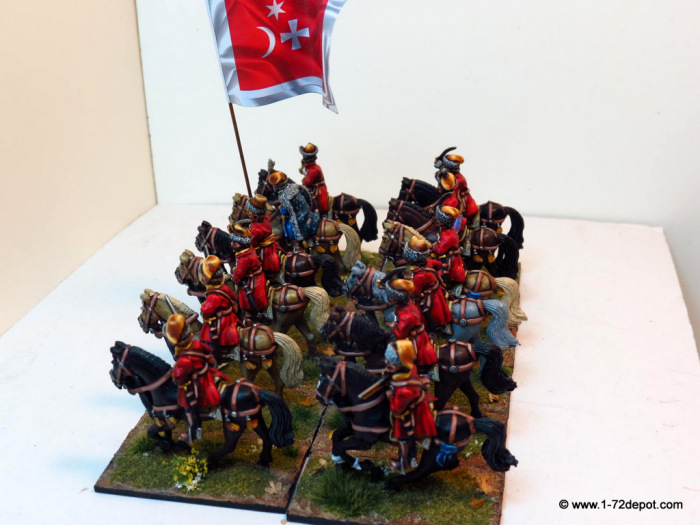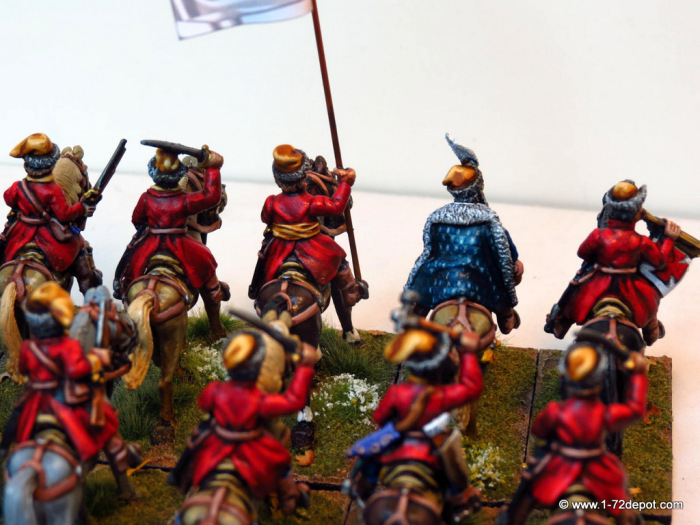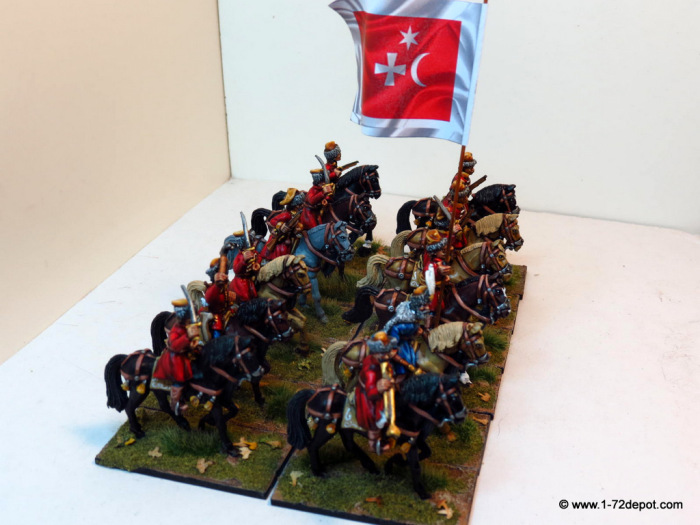 Tatars & Lithuanian Tatars
Tatars are the heirs of the "Golden Horde" of Genghis Khan's, the west part of his empire. Tatars, mainly weren't part of the Commonwealth, but some of them, in fact, were. The term "Lithuanian Tatars" is unknown for us, we reference it because so is how TAG call that blister. But their appearance and horses, are exactly the same used in Cossacks blister, opposite to Tatars, mounting the small steppe horses and with a different and characteristic costume. In the pictures all the "Lithuanian Tatars" are those using pistols, a nice addition to the Cossack horde, while Tatars, are carrying spears and bows, maybe some old fashioned for the period, but it was so. Posses are very dynamic, we specially like ones charging with the spear and those firing the bows. Well done figures.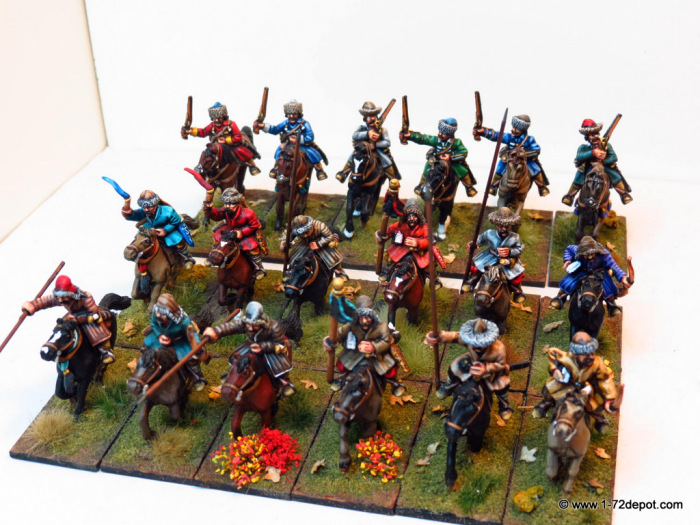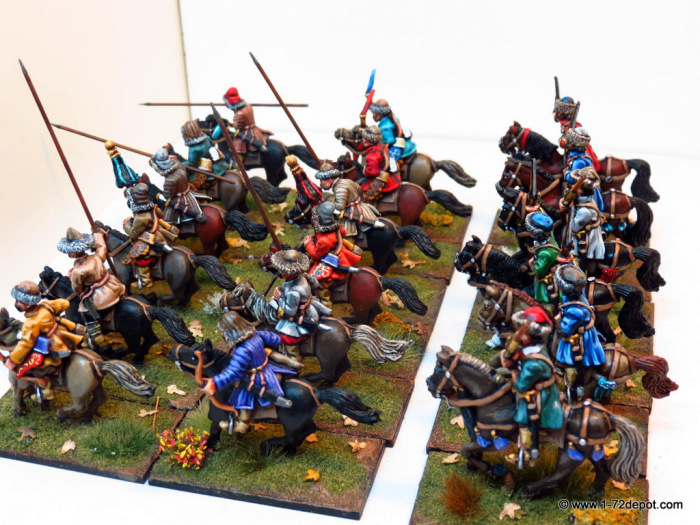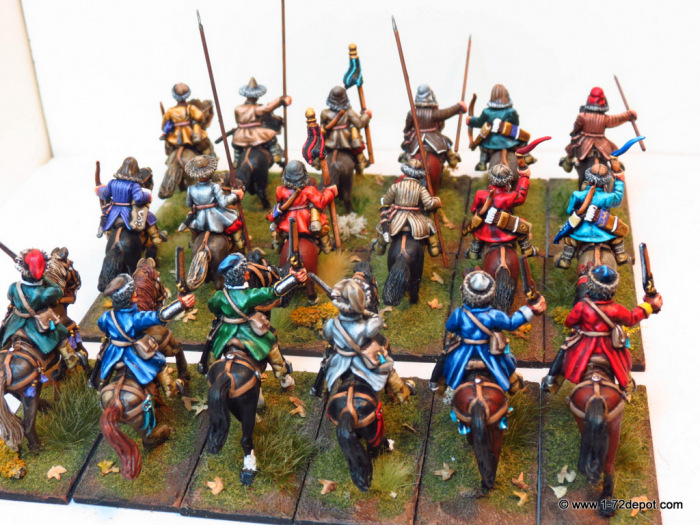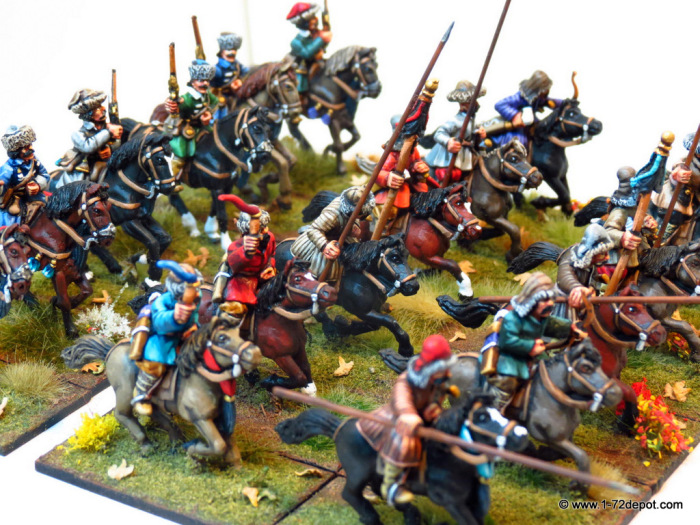 Cossack on Foot
Although Mounted Cossack were the most important for raids, Cossack on foot were also raised in high numbers during this period. TAG also haves a well bunch of references for this, providing pike as well as musket figures. Pistols and sabres are common too. In the ranks we see an Orthodox priest, a gift figure by TAG, as well as a drinking Cossack, which also is part of the gift range for the Renaissance era.
Completing the rank some Muscovite guards. We already used some of them in the Haiduks ranks, but here it's just a question of clean the stash !!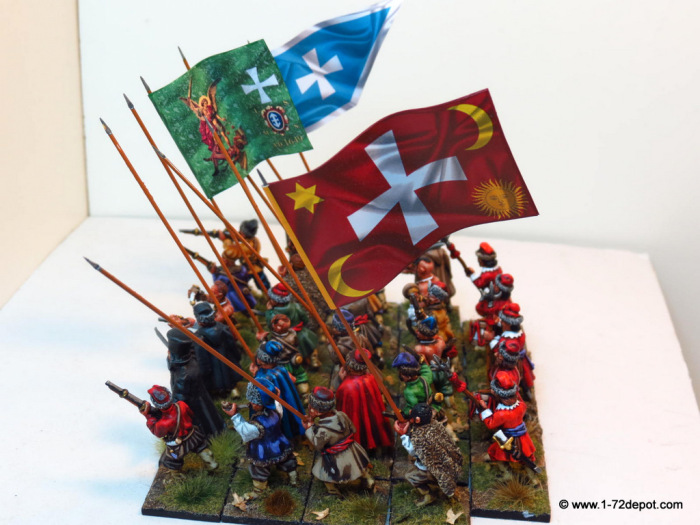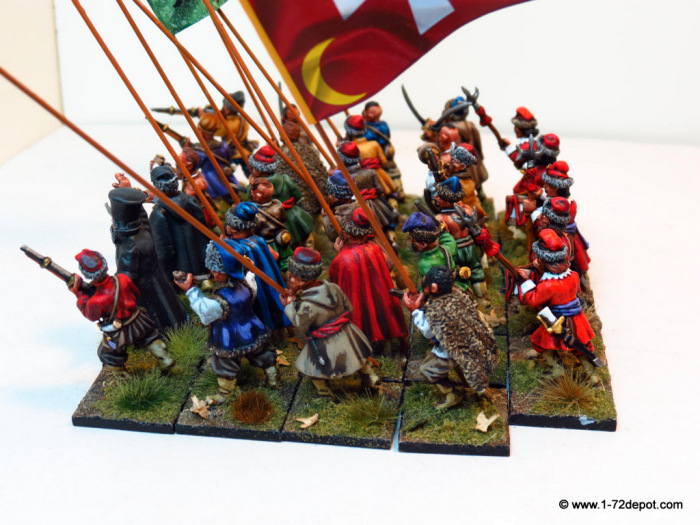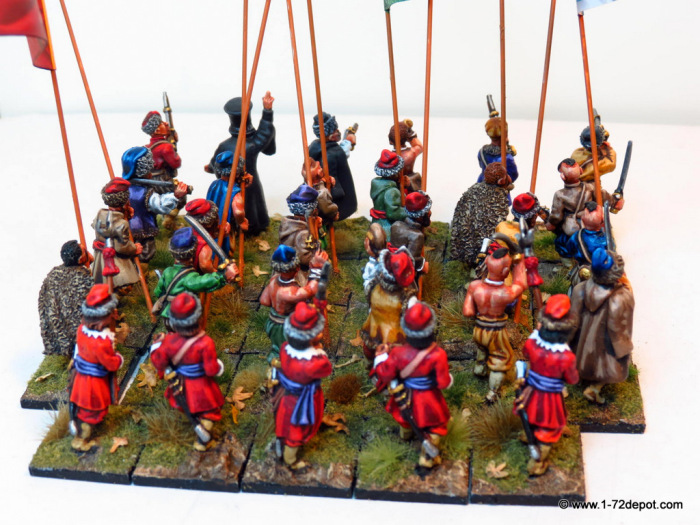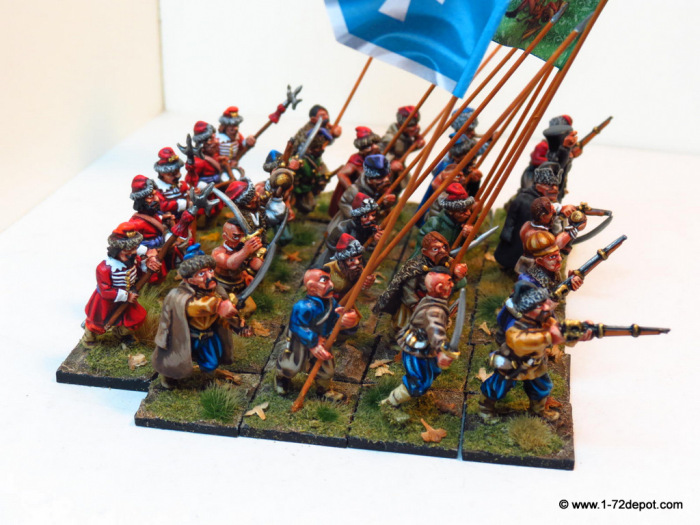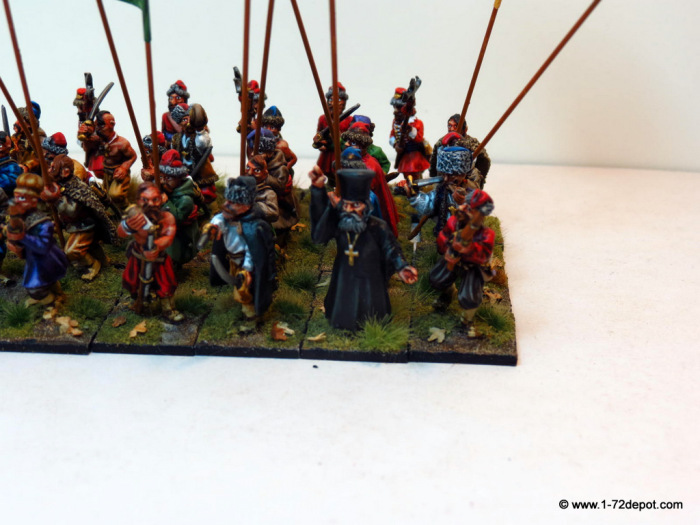 All the batch.
And that's all. Sorry for the poor quality of picture below. Another batch of the army completed. We start now the last one, the well know and beautiful Pancerni. Also we are working in some gabions positions for the artillery and a small surprise which can't uncover today.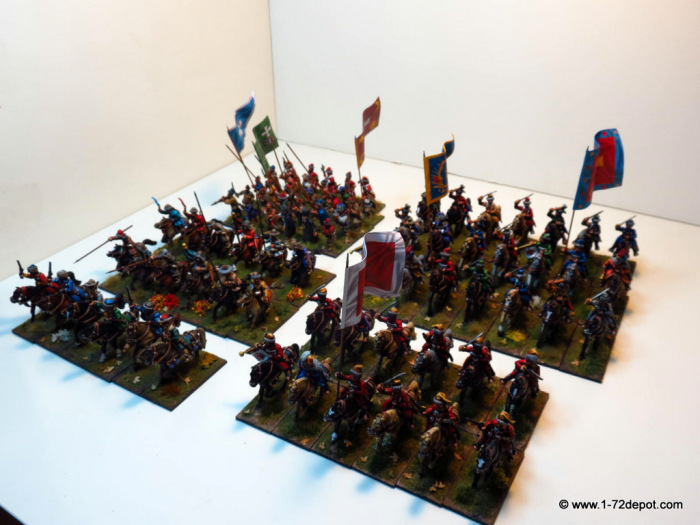 Hope you like them, best regards.